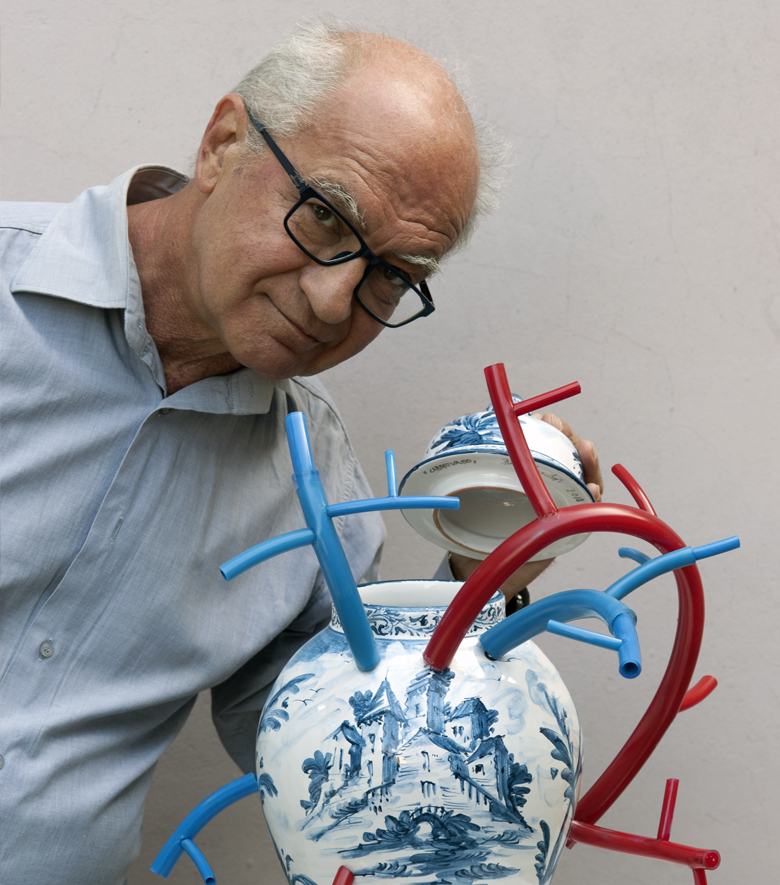 ---
Corrado Bonomi
---
Corrado Bonomi (Novara, 1956) looks back on a long career of solo-exhibitions and collective exhibitions in Italy and in the main public, institutional and private European spaces.

---
Download the CV
The artist
In 1995, Corrado Bonomi joins the artistic group of Concettualismo Ironico Italiano, which formes at the Angelo Falzone Gallery of Mannheim with the artists Giovanni Albertini, Alessandra Galbiati, Francesco Garbelli, Dario Ghibaudo, Antonella Mazzoni, Antonio Riello. In the same year, it takes place the important exhibition Das Spiel in der Kunst – Quasi per gioco at Neue Galerie of Graz, with – among the other artists - Vincenzo Agnetti, Stefano Arienti, Alighiero Boetti, Maurizio Cattelan, Aldo Mondino, Michelangelo Pistoletto e Pino Pascali.

Since 1997 he actively collaborates with the Museum A come Ambiente in Turin, with whom he publishes the handbook-catalogue Animali e Fiori nascono da... - a teaching-creative journey into the re-use of waste material in doing Art. He also collaborates with the Educational Department of the Museum of Contemporary Art at the Castle of Rivoli.

Since 2003 he exhibits his artworks in VAF Foundation's Collection at the Palace of the Exhibitions in Mathildenhòle, Darmstadt. In the same year he completes his personal retrospective Casa Bonomi in Milan and he exhibits on several occasions at the Ritter Museum in Waldenbuch; at the Neuer Kunstverein in Aschaffenburg; at Pomodoro Foundation in Milan – the exhibition is on trends of plastic in the XXI Century; at MART od Rovereto for VAF Collection; at the ZKM Museum in Karlsruhe – in the collective exhibition Hirsch Faktor.

In 2012 Gillo Dorfles chooses some of Bonomi's artworks for the exhibition Oggi il kitsch at Triennale of Milan. In the following years Bonomi newly exhibits at Mannheimer Kunstverein in the collective exhibition Global warming and in the bipersonal with Gianni Cella Warum erwachen?, as well as at the Civic Gallery of Trento in Nature. Arte ed ecologia.

In 2020 Corrado Bonomi is involved into the major collective exhibition La Rivoluzione siamo Noi – Collezionismo Italiano Contemporaneo, with over 150 artworks of Italian and international artists - which comes from 18 Italian collections, among the most important of Italy - , with the likes of Piero Manzoni, Maurizio Cattelan, Marina Abramović, Tomás Saraceno, Andy Warhol, Bill Viola, Dan Flavin, William Kentridge, Burri, Pascali, Melotti and many others.