---
The inauguration of Re-Inventing Piet. Mondrian and the consequences was held last Friday, March 10, 2023, the new exhibition where it is possible to see the Impossible Gift by Corrado Bonomi
The Wolfsburg Kunstmuseum is hosting a wide-ranging exhibition, the largest ever realized which embraces so many works, everyday objects, drawings, clothes, foods, all united by a common thread: the trace left by Piet Mondrian.
Corrado Bonomi, selected by the curator of the exhibition Andreas Beitin and Elena Engelbrechter, is present with one of his Impossible Gifts, loaned from the collection of the Museum Ritter in Waldenbuch.
In support of the exhibition, a catalog has been created where it is possible to see all the pieces on display, including great masterpieces by Mondrian and testimonials, tributes and stories from many other artists.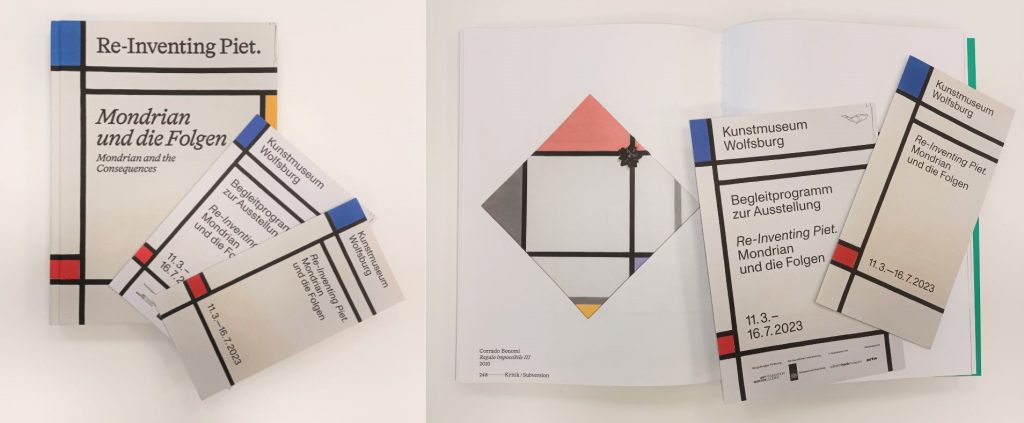 ---
During the event, the artist released a brief statement in which he recounted the greatness of the Dutch artist and the meaning behind his personal tribute: «Mondrian is a great artist who has been able to influence our world. Everyone would like to have a Mondrian, which is why my work is a "wrapped" reproduction of it, because it is a gift, an impossible gift to receive, because no Mondrian is for sale».
Here is the testimony made by Andreas Richter
---
From 11 March to 16 July 2023
Kunstmuseum Wolfsburg, Hollerplatz 1, Wolfsburg
Tuesday – Sunday: 11.00 – 18.00
Monday closed